2020-10-29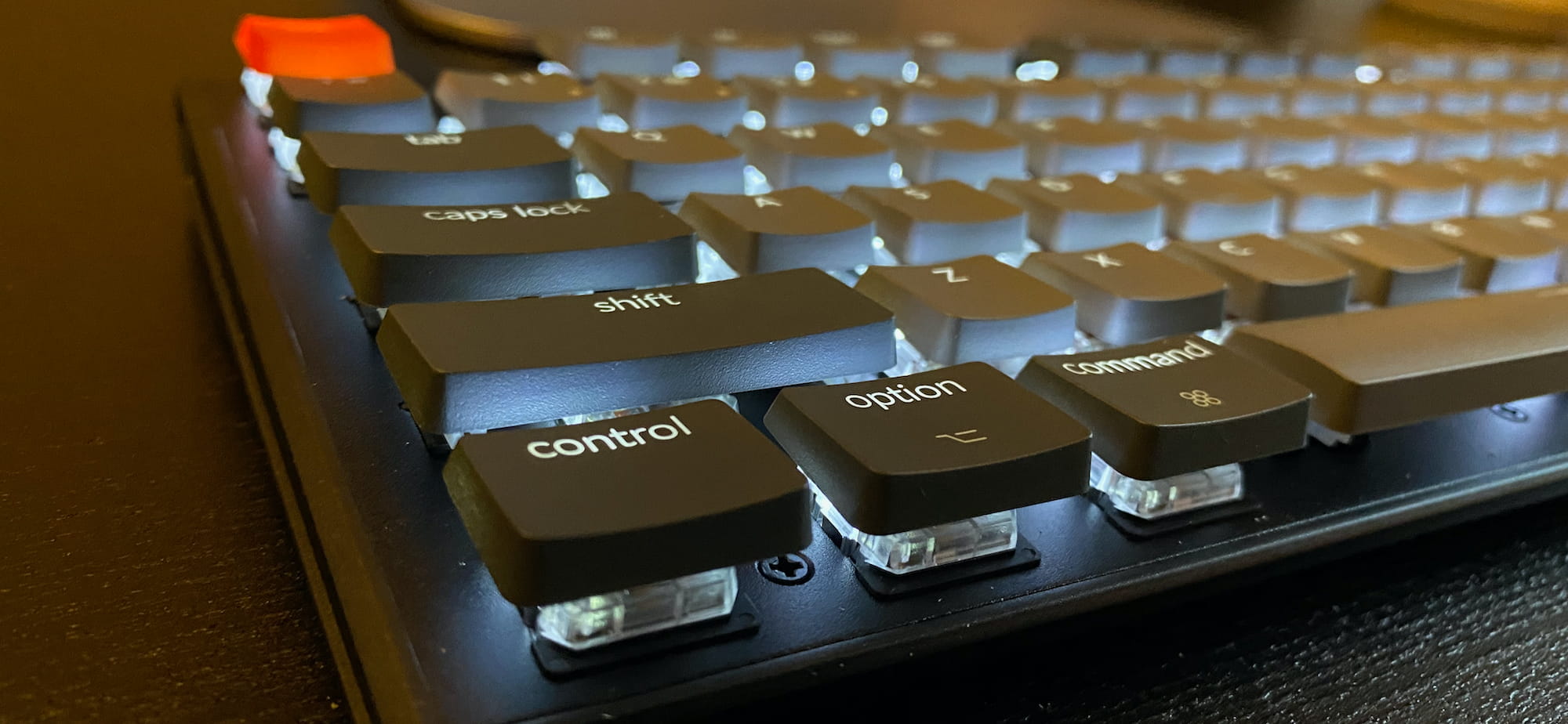 Keychron K1
I got a new keyboard
Like many people, I've been working from home for a while now. I was sent home in March and I've been refining my home-office set up since then. The first step was moving from the open loft into the guest bedroom (now my office, basically forever). I also got a monitor arm to make dealing with my laptop plus an external display nicer. I even got a new desk from Ikea that is considerably bigger, nicer, and generally more sturdy than my previous Ikea desk.
But since I started working from home, my keyboard has been a weird source of annoyance for me. Truth be told, this problem has always been the case, but it's become more noticeable recently. The problem is that it is just so wide.
The Code Keyboard
For more than 5 years now, I've used a Code Keyboard (v2, 104 key, Cherry MX Clear switches). It's a truly great keyboard. It's sturdy and a joy to type on. The design is understated and simple, but all the details are well thought-out. The cable can be routed out of many places. The backlight is even and can be set to one of 7 levels. And there are switches on the back to change the alt/super key layouts and to disable things like caps lock.
But it's also a full-sized keyboard with a number pad. Which makes it super wide. I'm not really sure why this has started to bug me more at home, but I've begun to notice how far my arm has to reach to get to my trackpad. It's not unusable, just uncomfortable enough to make me look at other keyboards.
I switched from my MX Master 2s to a Magic Trackpad shortly after I got my MacBook. Nothing really against the mouse, but the trackpad is so much better to use with macOS.
My first thought was to get a new Code Keyboard. They're on V3 now which adds USB-C and more programmability. And they come in an 87 key (tenkeyless) layout. Sounds good, right? Sure does, until I saw the price. My previous keyboard was about $150. That's a lot, but the keyboard has held up for so long and been so good that it has very well justified the price. The new one? $170.
That might be too much. I believe that spending money on things that get that much use is worthwhile, but every time I saw that price I backed away from buying.
The Keychron K1
Then a link scrolled by on Twitter one day about the Keychron K2. I remember clicking on the link and being impressed to see a mechanical keyboard that was designed for Macs (not a common thing). The layout of the K2, though, was a no-go. While I like the idea of a compact keyboard, I also really like there to be a gap above the arrow keys. It's essential to how I use the keyboard to have that area to anchor my fingers to the arrows without looking for them. This is also why I love the half-height arrow keys on the new MacBooks.
But as I was clicking around the Keychron site, I started looking at their other models. All seem very high quality and are designed from the start to be used with a Mac. In particular, the K1 and K8 caught my eye as they both have a normal tenkeyless layout. They both have nice backlit keys and can be used wired or wireless.
I settled on the K1 in the end, since I found some reviews noting how the K8 is awkwardly tall. I got one with 87 keys, white backlight, and Gateron Brown switches. I would have gone for RGB had it been in stock, but I think the white is just fine. It arrived earlier this week and I've been using it for a couple of days now. Here are some first impressions:
It's really well built. It's not as hefty as the Code Keyboard, but it's not light. The metal case feels very solid.
It also looks very nice.
The low profile keys and switches are going to take little time to get used to but are pretty nice to type on.
I probably could have gone with the red switches, since the tactile bump from the browns is not super noticeable since there is so little travel (compared to my Code Keyboard). They're still really nice to type on and not as loud as the clears I've been using.
The gap between the number row and the function rows is smaller than on the Code Keyboard. Same thing with the arrow/home cluster on the right and the main keys on the left. I never noticed before how much I rely on that gap to find things like backspace, so I'm missing some keys more than usual. I'm getting used to it but it'll take a while to fully adjust.
The backlight effects are fun and useless. I leave it on a solid but dim glow all the time.
Oh, and it's very nice to have my trackpad closer to me. I only miss the number pad a little bit.
All in all, I think I can easily recommend the K1. Really, if this quality is consistent across the board for Keychron, then I could recommend any of their keyboards provided you can find a layout you like.